OUR STEPHEN MINISTRY…
educates and prepares lay people of the congregation to provide one-on-one Christian care. Stephen ministers help those who are hurting due to a crisis, death of a loved one, terminal illness or other health issues.
Stephen Ministers Trained to Provide Support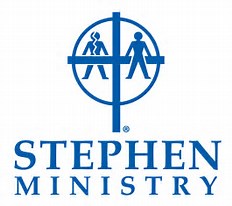 Crises are inevitable. Everyone experiences them because everyone goes through change. When you experience changes that challenge you to find new ways of coping and that result in new ways of living—you will probably go through a time of crisis. People can experience many kinds of crises, from such predictable life events as the onset of puberty or facing death to such unpredictable events as an automobile accident or the sudden death of a loved one.
Definitions of Crisis 
Look up crisis in the dictionary and you will find the words turning point as part of the definition: (1) The turning point for better or worse in an acute disease. (2) The point of time when it is decided whether an affair or course of action shall proceed, be modified, or terminated: decisive moment: turning point. (3) An unstable state of affairs in which a decisive change is impending.
Two Mental health professionals offer these definitions: 
"A crisis is a temporary state of upset and disorganization, characterized chiefly by an individual's inability to cope with a particular situation using customary methods of problem solving and by the potential for a radically positive or negative outcome." …Slaikeu 
"…the person's internal reaction to a perceived external hazard." Morley 
The Chinese word for crisis provides an important insight into the nature of crisis—made from a combination of two characters, one meaning "danger" and the other meaning "opportunity." Every crisis provides both an opportunity to grow as well as the danger of choosing destructive solutions that result in unhealthy living and relating.
From these definitions it is clear that a crisis is an upending experience and resides on a continuum from brokenness to wholeness.
Our Stephen Minister's role as a care giver to someone in "crisis" is to help the care receiver gain a balance so that the person finds a new equi-librium that is more toward wholeness than brokenness. One of the resources that our Stephen Minister's have studied, is "Don't Sing Songs To A Heavy Heart" by Kenneth C. Haugk, the founder of Stephen Ministry. Drawing from the writer of the Proverbs we hear these words:
"Like one who takes away a garment on a cold day, or like vinegar poured on soda, is one who sings songs to a heavy heart. Proverbs 25:20 
Paraphrased, the passage could read like this: As uncaring as it is to rip off someone's coat on a cold day, as messy as it becomes when you pour vinegar on baking soda, you can expect the same kind of results if you say cheery things to a person with a heavy heart. In other words, with the best of intentions you can add to people's problems.
A Stephen Minister is one who has been trained to be a good listener; to learn constructive things to say and do. And by their effective caring and relating, hurting people will experience the warmth of being cared for, and their hearts may even be lightened. If you or someone you know could benefit from a caring relationship with a Stephen Minister, please call the church office and leave a name and number so that a Stephen Minister may contact you.