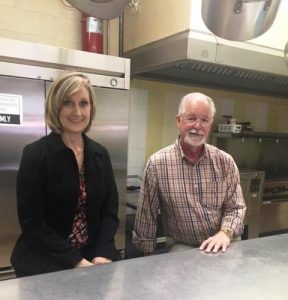 Story(in part) and photo by Julia Hudgins, The Dispatch

First Reformed United Church of Christ in Lexington is offering any interested members of the community to take a seat and enjoy fellowship and a home-cooked meal at its bi-monthly dinners.
Every fourth Tuesday of every other month, First Reformed UCC provides meals to those who may be too busy, who may not be able to afford a dinner elsewhere, and those who might eat alone. The meals are hosted in the church, located at 104 E. Center St.The Rev. Elizabeth Horton explained that the church felt it was necessary to target those who may otherwise eat alone, because sharing a meal is much more than eating what is on your plate.
"Eating is such a communal activity," Horton said. "It's a time to build relationships, a time where you sit down and talk about your day … so eating by yourself can be difficult and it can be nice to just have people who you can share a table with."
The dinners have included options such as pork loin, stewed apples, black-eyed peas, dinner rolls and sweet tea. The chef and one of the original organizers of the dinners, Mike Brown, said that by providing food to the community he is not only doing what he enjoys but he gets to help others in the process.
"I just like to cook, even when I was working we would cook all day," Brown said. "Now I can do it to give back to the community and we like the food we cook here, all of us would eat what we serve."
The food is free to anyone who may wish to enjoy it; however, participants are welcome to donate should they feel so moved. Horton explained that many of the 160 or so people who have gathered at these dinners donated more money than the cost of the food. Organizers at First Reformed UCC are taking these donations, and in turn give the money to local ministries.
Dave Fulton, chairman of evangelism at First Reformed UCC, said the dinners and the donations are a natural extension of the service God calls the church to give.
"It is what God calls us to do, to serve our community," Fulton said. "We need to love our neighbor no matter who they are and God loves everyone not just those who come to church every Sunday."
Horton said as she looks to the future of these meals, she hopes the church is able to create a loving atmosphere for those who attend.
"I hope that folks will feel at home here," Horton said, "that they can come here and receive a good meal where they can just give what they can give and be fed.