WEEKLY EMAIL FROM FIRST REFORMED UCC
DECEMBER 31, 2021

CHRISTMAS DECORATIONS WILL BE TAKEN DOWN AFTER WORHSIP SUNDAY, JANUARY 2, 2022. PLEASE STAY AFTER THE SERVICE IF YOU'D LIKE TO HELP THE DECORATING COMMITTEE WITH THIS.

LOOKING TOWARD SUNDAY: A MESSAGE FROM REV. HORTON
What a beautiful Christmas Eve service! The music, the scriptures, the beauty of the candlelight. Seeing all of us gathered around the sanctuary holding the light was incredibly powerful. Did you feel it too? I left the service with my heart full of hope and tremendous peace in my spirit. The Birth of Christ reminds us again that "Light shines in the darkness and the darkness did not overcome it. "

This Sunday is Celebration of Epiphany. Rev. Evan will proclaim the word, and also preside over Holy Communion. I will be absent. My family is going to Buffalo, NY to see the Buffalo Bills play football. My husband,, Dan, was raised in that area, and has rooted for the Bills for decades. I was scheduled to go, as well but am sticking close to home to assist with my Dad while he finishes up his time in skilled nursing rehab.

As you come to the sanctuary, please continue to mask and distance.

Celebrations and Gratitude to:
John Maze and Ben Hale for coordinating the Christmas Day meal, and thank all of you who shared your home-cooked food to feed our neighbors. Approximately 95 meals were served.
Patti Lovell for coordinating, gathering, and organizing the goody bags to give along with the meal.
Congratulations to Sarah Potts, one of Lexington Police Department's newest officers! She was sworn in Wednesday, December 29. Sarah, we thank you for your willingness to serve and protect. We will pray for you and your family.
Grateful to serve with you, Elizabeth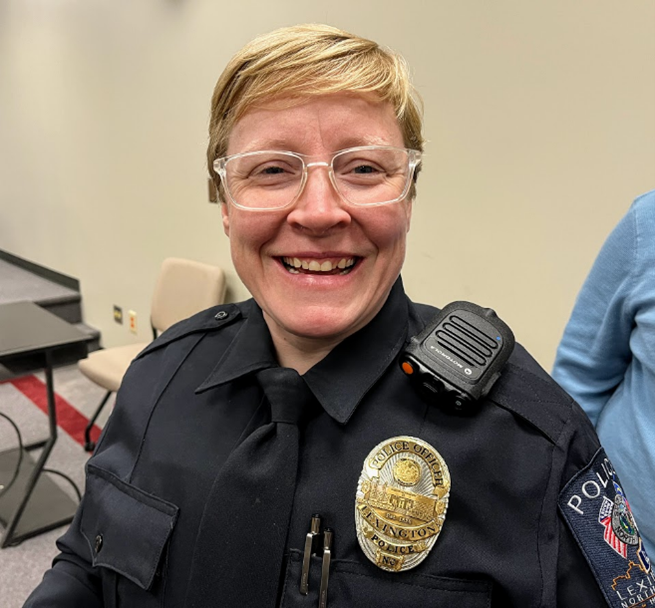 SERMON TITLE FOR JANUARY 2, 2022:
"Living into a New Year"
In the Pulpit: Rev. Evan Sieges
Scripture:Matthew 2: 1-12
SIGN UP FOR CHILDREN AND YOUTH MINISTRIES FOR 2022
YOUTH MINISTRIES
SUNDAYS at 6:00PM: Youth Group (Fellowship Hall)
WEDNESDAYS at 6:30PM: Youth Study (Youth Room)
SIGN UP TO VOLUNTEER FOR WEDNESDAY NIGHT YOUTH STUDY HERE

CHILDREN'S MINISTRIES
SUNDAYS at 10:30AM Children's Church (Theater Room)
SIGN UP TO VOLUNTEER FOR CHILDREN'S CHURCH HERE

WEDNESDAYS at 6:30PM: Children's Fun & Activities (Fellowship Hall)
SIGN UP TO VLUNTEER FOR WEDNESDAY CHILDREN'S FUN & ACITIVITIES HERE
BIBLE STUDY THROUGH JANUARY 30, 2022
"Love Never Ends: Being the Body of Christ"
Ordinary time is the season that follows Epiphany, although most of the time we call it the "Season of Epiphany." The Epistle readings in Year C of the Lectionary Cycle are the letters to the Corinthians. The best-known passages are from I Corinthians 13 known as the "Love Chapter."

This Bible Study is based on the Epistles readings as a way of seeing the Light of Christ through the lens of love. "Love Never Ends" is both a description and a promise. You are invited to journey with others, guided by the Corinthian Epistles to let the light shine around you, in you, and then from you as we seek to continue to become disciples of Jesus Christ for the transformation of the world.

We who have seen the Light of Christ now desire to reflect it in our community and in our world by letting others see Christ through our loving presence.

Our Sunday morning Bible study begins at 9:30AM in the educational building or via ZOOM. The themes and scripture readings for the month of January are as follows:
Sunday, January 9th
"Well Pleased"
The Baptism of Jesus
Luke 3:15-17, 21-22

Sunday, January 16th
"Varieties of Gifts"
I Corinthians 12:1-11

Sunday, January 23rd
"You Are the Body"
I Corinthians 12:12-31a

Sunday, January 30th
The Greatest of These"
I Corinthians 13:1-13

USHERS NEEDED
Please consider signing up to serve as an usher on Sunday mornings. Open slots are available on most Sundays. You may use the Sign-Up Genius link below to pick a Sunday to volunteer. Feel free to sign up for more than one Sunday of service! https://www.signupgenius.com/go/8050f44abae28a7fe3-usher

HELP US UPDATE OUT BIRTHDAY AND ANNIVERSARY CALENDAR
Have you noticed that your name has not been showing up on our birthday or anniversary calendars in the newsletter, bulletins or weekly emails? If so, it's because we don't have it in our church records. Help us start the New Year off right by updating our records. If you would like your name included in these calendars, please contact the office by email (carolyn@frucc.org) or phone (336-248-2617), and we'll be sure to add this information to our records.

IT'S GIRL SCOUT COOKIE TIME
Troop #2160 will pick up their cookies on January 15! Watch your weekly emails for times for the Drive-Thru Cookie Booth at the church. You will also be able to place orders directly with Jianna or Kivi Miller.

THANK YOU FOR YOUR SERVICE:
LITURGIST: Dave Fulton
DIGITAL MEDIA TECHS: Kivi & Jia Miller
SOUND TECH: James Gray
ACOLYTE: Emma Hartle
BIBLE STEWARD: Jacob Hartle
USHERS: John Gray, Lisa Nelson, John Smith, Michell Winters, Eddie Yates

PLEASE PRAY FOR…
Jeremy Lovell, Alisa Johnson

AT HOME AND IN CARE FACILITIES:
Peggy Bates, Sherry Bonner, Lee & Ellen Bouchard, Ruth Essick, Pattie Everhart, Vogen Everhart, Lib & Jimbo Hinkle, Jeff Hutchens, Marguerite Leonard, Deanna Michael, John Potts & Janette Neal, Lib Sink, Carolyn Spivey, Adena Wall

OUR FRIENDS:
Nicole Holste (Alane Holste's sister-in-love), Family of Will Swaim (friend of Alane Holste), Ed Leonard (Sylvia Walser's brother), Miller Abernathy (Sylvia Walser's son-in-law), The family of Evelyn York (friend of Alane Holste), The Family of Ruth "P-nut" Kennedy (friend of Alane Holste), Marc Frye (son of the late Doris Frye, Ashley Thomason (Ron & Heidi Hutcheson's daughter-in-law)

JANUARY CELEBRATIONS
BIRTHDAYS:
3rd…Carroll Spivey
5th…Jianna Miller…Smithie Parrish
6th…Gennie Lou Byerly

CALENDAR OF ACTIVITIES IN OUR CHURCH
Sunday, January 2: Epiphany and Holy Communion
9:30AM
Adult Bible Study: "The Light of Home"
John 1:1-9, 10-18 (Facilitator: Rev. June Grubb)
You may join the meeting using the following link;
https://us02web.zoom.us/j/89026528333?pwd=QzRrR0hocHJMN1hQazZXUGN5dWJnUT09
Meeting ID: 890 2652 8333 Passcode: Bible One tap mobile: +13017158592, 89026528333# US

10:30AM
Worship Service: In-Person and Livestreamed Online (YOUTUBE)
IN THE PULPIT: Rev. Evan Sieges

Following Worship
Prayer Circle
Take down Christmas decorations…anyone who would like to help is welcome!

Tuesday, January 4:
12:00PM
2CFAR Crucial Conversations of Faith and Race via Zoom
https://us02web.zoom.us/j/87341918684?pwd=RmlVeWIvTlNXSnRnUktwdWg3cklYdz09
Meeting ID: 873 4191 8684 Passcode: FaithOne tap mobile: +187341918684# US (New York)

Wednesday, January 5:
5:30PM
Confirmation

6:30PM
Choir Practice
Children's Fun and Games
Youth Study

Thursday, January 6:
4-6:00PM
Clothes Closet Workday

Saturday, January 8:
12:30PM
Take-out Lunch Ministry (Kitchen)

Sunday, January 9: First Sunday after Epiphany
9:30AM
Adult Bible Study: "Well Pleased"
The Baptism of Jesus (Luke 3:15-17, 21-22)

10:30AM
Worship Service: In-Person and Livestreamed Online (YOUTUBE)

10:45AM
Children's Worship

Following Worship
Prayer Circle

11:45AM
Consistory Meeting