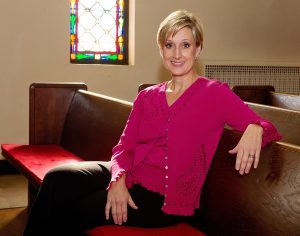 Elizabeth grew up in Walkertown, NC and graduated from Carver High School. Her father was a school principal and her mother a school social worker.  She attended East Carolina University, with a BS in English Education, then headed to Appalachian State University to receive an MA in School Counseling.  She then worked as an elementary school counselor in WS/FC school system before she felt led on a different path.  Her experience working in the schools served as good preparation for ministry. She remains a strong advocate for public education and the essential function it serves in our society.
In 1999, the Divinity School at Wake Forest University opened, and Elizabeth took a leap of faith by applying, and became part of the Inaugural Class, graduating in 2002 with a Master of Divinity. Initially, she did not set out to be a church pastor, but rather continue in the realm of counseling.  However, God is full of surprises, and she found herself falling in love with the art of peaching, creating and leading worship.
 After graduation,God did open windows for her in the United Church of Christ, serving at First United Church of Christ, Winston-Salem, Interim Pastor at Christ UCC, Lexington, and as stated supply for Bethany UCC, Claremont. Elizabeth is grateful for the UCC's call "to take the Bible seriously but not literally," and she firmly believes in our motto, "No matter who you are or where you are on life's journey, you are welcome here."
 Elizabeth and her spouse, Dan live in Lexington with 3 children, Megan (12th grade), Patrick (3rd) and Parker (1st).   Dan works for Carolinas HealthCare in Information Systems.  They have a dog, Kelly, and cat Bootsy. For her sanity and health, she enjoys running 3-4 times a week.
 Her focus can be summed up in 3 C's: Consistency, Clarity, and Connection.  This means we work to re-establish and maintain stability, communicate our expectations clearly between Pastor/congregation, and deepen our relationship with one another and with God.
Email Rev. Elizabeth Parker Horton: elizabeth@frucc.org
---
Minister of Pastoral Care — Rev. June Grubb
A graduate of Catawba College and Lancaster Theological Seminary, June has served congregations in North Carolina, Texas, and the state of Washington as Minister of Christian Education and Associate Pastor. She served for over nine years as Associate Conference Minister in the Rocky Mountain Conference UCC, Denver, CO. She has served as an Interim Minister in several churches, including Chewelah UCC, Chewelah, Washington, Magnolia UCC in Seattle, WA and Peace UCC in Greensboro, NC. She also was the Interim Associate Conference Minister for the Western N.C. Association of the Southern Conference, UCC.
For the past twelve years she has travel all over the country working with local congregations as a certified "Trainer of Trainers" for the United Church of Christ and Unitarian Universalist curriculum, Our Whole Lives: Sexuality and Faith.
In September, 2014, she and her brother, along with the help and support. Dr. Kenneth Clapp of Catawba College completed a cabin at Black Lake Retreat Center, an Outdoor Ministry facility outside of Asheboro. This project was begun with great passion by her brother, Lonnie Grubb, before his death from Pancreatic Cancer in October, 2013. The Cabin, named Inspiration Cabin was dedicated on September 20, 2014.
Although June is now retired she is still involved in ministry serving as Minister of Pastoral Care and an ordained Stephen Ministry leader at First Reformed UCC in Lexington. First Reformed UCC is so fortunate to have the expertise of Rev. June. In her spare time she enjoys reading, traveling and loving her three pets, a Chihuahua named "Coco", a Dachshund named "Gracie" and a cat named "Bella."
Email Minister of Pastoral Care Rev. June Grubb: june@frucc.org
---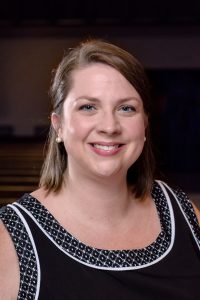 Director of Music:Ellen Peterson, (Adult and Hand Bell Choir)
Ellen joined the staff of First Reformed in 2012 as Music Director, leading Adult Chancel choir, the Hand Bell Choir and the "JAM" Choir. Her expertise and energy is exciting to all.
She grew up in Lexington and her family attended Second Reformed UCC. Ellen is a graduate of the University of North Carolina at Greensboro with a Bachelor of Music Education and has a North Carolina "A" license in grades K-12 in general music. She also holds several North Carolina teaching honors as well as music memberships and affiliations.
Ellen is currently the Director of the choral program at North Davidson High School and also the Choral Director of the Lexington Choral Society. First Reformed UCC is blessed that Ellen shares her many talents with us. Ellen's family includes husband Jeremy and son Lucas.
Email the Director of Music: ellen@frucc.org
---
Carolyn Robbins, Administrative Assistant
Carolyn grew up in Lexington and graduated from Lexington Senior High School and attended Mars Hill College right after high school, then later graduated from UNC-Greensboro with a major in Early Childhood Education. She then moved to Rocky Mount to live with her best friend at the time and met her husband, Bill, there.
All of her daughters, Michael (my stepdaughter), Ellen, and Molly, were born in Rocky Mount. They transferred for Bill's job a couple of times and ended up back in Lexington in 1994. She was glad to be back home close to her mom and dad, Carlton "Tommy" and Laura Williams.
Carolyn's teaching career has taken her to various school systems: Nash County, Kannapolis City, Cabarrus County, Lexington City, and Davidson County, having taught all elementary school grades with her favorites being 3rd grade and 4th/5th grade Academically and Intellectually Gifted. She has served as a Mentor Teacher to newly certified teachers during her tenure with Nash and Davidson County School Systems and is very proud to have represented several schools as their Teacher of the Year.
Carolyn retired from teaching after 32 years to be a full-time "YaYa" to our grandson Lucas, now 5 years old, one of the best decisions, she says, ever made! Carolyn is joined by three other grandchildren, Jacob (18) and Annmarie (4), and Lily (3 weeks).
Her hobbies include sewing, a variety of arts and crafts, reading, and making her own Christmas cards each year.
Email the Administrative Assistant: carolyn@frucc.org
---
Paula Lopp, Financial Secretary
Paula joined the staff of First Church in September 1994 when the jobs of secretary and treasurer were combined into the position of Administrative Assistant. She skillfully handled receptionist and secretarial duties along with managing the church finances. She worked as the church Administrative Assistant until September 2013 when she retired from that position. Upon retirement the Administrative Assistant's duties were divided into two positions: secretarial and financial.
Paula continues as the Financial Secretary. If there is a question about funds, Paula is the go-to person. First Church is fortunate to have the expertise of such a person as Paula.
She also faithfully serves as a Choir member, and is a member of the New Way Sunday School class, Friendship Club and Women's Life Fellowship.
Paula is joined by her husband Clifford and two daughters Keri Hartle and husband Casey, and Ashlee Snider and two grandchildren, Emma and Jacob.
Email the Financial Secretary: paula@frucc.org