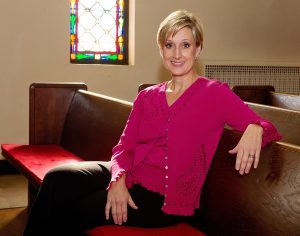 Elizabeth grew up in Walkertown, NC and graduated from Carver High School. Her father was a school principal and her mother a school social worker. She attended East Carolina University, with a BS in English Education, then headed to Appalachian State University to receive an MA in School Counseling. She then worked as an elementary school counselor in WS/FC school system before she felt led on a different path. Her experience working in the schools served as good preparation for ministry. She remains a strong advocate for public education and the essential function it serves in our society.
In 1999, the Divinity School at Wake Forest University opened, and Elizabeth took a leap of faith by applying, and became part of the Inaugural Class, graduating in 2002 with a Master of Divinity. Initially, she did not set out to be a church pastor, but rather continue in the realm of counseling. However, God is full of surprises, and she found herself falling in love with the art of peaching, creating and leading worship.
After graduation,God did open windows for her in the United Church of Christ, serving at First United Church of Christ, Winston-Salem, Interim Pastor at Christ UCC, Lexington, and as stated supply for Bethany UCC, Claremont. Elizabeth is grateful for the UCC's call "to take the Bible seriously but not literally," and she firmly believes in our motto, "No matter who you are or where you are on life's journey, you are welcome here."
Elizabeth and her spouse, Dan live in Lexington with 3 children, Megan (12th grade), Patrick (3rd) and Parker (1st). Dan works for Carolinas HealthCare in Information Systems. They have a dog, Kelly, and cat Bootsy. For her sanity and health, she enjoys running 3-4 times a week.
Her focus can be summed up in 3 C's: Consistency, Clarity, and Connection. This means we work to re-establish and maintain stability, communicate our expectations clearly between Pastor/congregation, and deepen our relationship with one another and with God.
Email Rev. Elizabeth Parker Horton: elizabeth@frucc.org