Rejoice always, pray without ceasing, give thanks in all circumstances; for this is the will of God in Christ Jesus for you…hold fast to what is good.
1 Thessalonians 5: 16-21
A memory from 8 years ago popped up on my Facebook page, which I posted again. It was a picture of the boys sitting on our kitchen floor eating out of a bag of cereal. Patrick was 2½ and Parker 11 months. It's a scene I imagine is common in many homes with toddlers. What the Facebook post does not tell is the story behind the picture.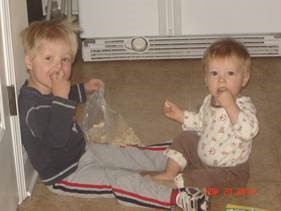 This picture was taken on the Saturday morning before Thanksgiving 2010. The boys were doing exactly what toddlers are supposed to do…being busy at being alive and experiencing all that their world of could offer. I didn't have time to enjoy their zest for life in that moment as I was serving a church and desperately needed to finish a sermon to preach in roughly 24 hours. Parker was getting over a bad ear infection and still felt puny. My mom was in the throes of what cancer does to a body, mind, and spirit, yet my sister and I were trying to put together some semblance of normalcy in preparation for Thanksgiving. I believe Megan was 10 years old and bless her, was still asleep when this picture was taken.
It was hard to feel thankful on that morning when I just felt so overwhelmed….And then Patrick marched to the pantry with his brother teetering behind. He gets our cheap "knock off" brand cereal out of the box and sits, inviting his little brother to a space on the floor. There they sat –sharing it heartily and peacefully with one another for a few grace-filled minutes.
I gave thanks and savored the moment and took a picture. Who knew when it would happen again? Perhaps this is a sliver of what Paul meant when he told the struggling church in Thessalonica, "Rejoice always, give thanks in all circumstances."
I pray that on this Thanksgiving Day, you will be able to find moments of peace and grace even if they are fleeting and few between. Hold fast to what is good…Capture the moments…and in all circumstances, Give Thanks.
See you Sunday,
Elizabeth